I'm so happy that readers and bloggers are loving Sebastian Quinn (aka MISTER BLACK)! Here are a few review snippets from the great reviews!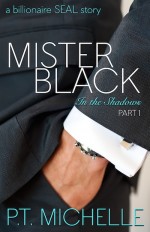 Top 100 Best Seller
International Best Seller
#2 Amazon.ca Kindle overall
#1 Best Seller in Contemporary Romance Kindle Amazon.ca
#1 Best Seller in Romantic Suspense Kindle Amazon.ca
BUY LINKS : Amazon | B&N | iTunes | Kobo
What reviewers are saying…
"…5*SIZZLING*HOLY HOT DAMN*STRIP MY CLOTHES OFF*SEBASTION YOU SEXY MYSTERIOUS SMOOOOOOOOOOOOOOOOOOOOTTTHHHH OPERATOR* STARS…." ~ Forever Me Romance*
"…This fast paced, knee-buckling first installment of the In the Shadows series will whip you into submission and have you begging for more before the last page. Ladies, if you loved Christian Grey, you will COVET Mr. Black…" ~ Mel, Erin & Regina Read a Lot*
"…Mister Black, aka Sebastian Quinn is hot! I mean sizzling, panties melting hot! This story is a must read and I can't wait to read the rest of the In The Shadows series…" ~ Riverina Romantics*
"…Mister Black is busting with intense sexiness–and I loved that!…I'm hooked! The pacing was wonderful, as was the buildup of the plot and story, and I was pulled in the moment I started it..." ~ Corrie The Book Crazed Girl*
"…The author's ability to describe her protagonist's personalities is without a doubt, fan-bloody-tastic! The storyline is faultless, the cliffy is brilliant…Bravo, Ms. Michelle…" ~ Kindle Friends Forever*
"…Sebastian is an alpha male who knows what he wants and often gets it…I can't wait to read more!.." ~ Kelly's Kindle Konfessions*
"…Holy hell! I want more! I absolutely loved Mister Black and I cannot express how much I did! It has one sexy, dark, mysterious guy that I can't get enough of. He is protective, but domineering and even made my girl parts quiver with his commanding tone! I hope the next book comes out soon!…" ~ Naomi's Paranormal Palace*
*Click each of the links above to read the entire review!
Teasers for MISTER BLACK…